Best Password Manager in 2021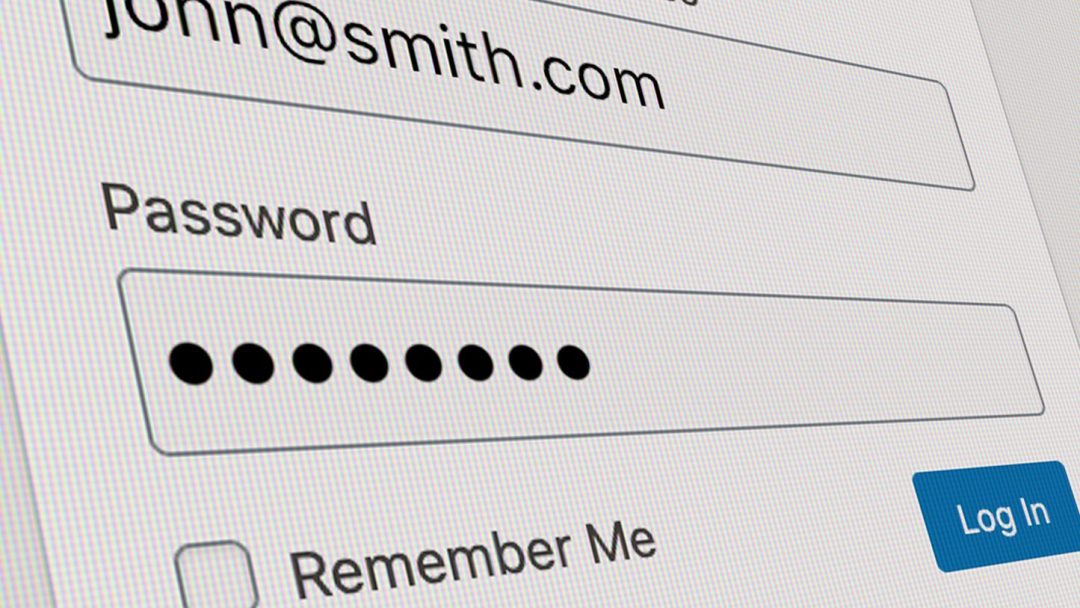 The average 18 to 34-year-old internet user has at least 8 different profiles on social media. This is essentially a necessity. We go to YouTube for videos, use Instagram for photos, Facebook to connect with family and friends, and LinkedIn for careers and professional connections.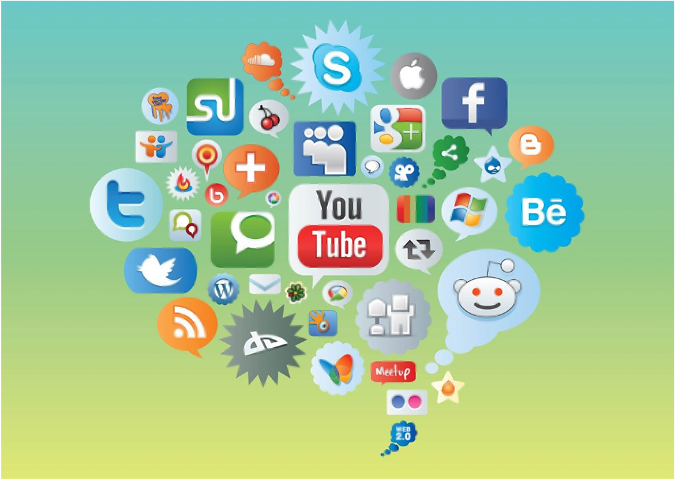 With the baffling array of accounts and websites we all log into every single day, forgetting passwords is a really common problem. Most people struggle with remembering passwords, so they use the same one for each account (which is not a great practice). However, you don't need to know how to sharpen your memory as a solution, a good password manager will save you from this scuffle!

What is a password manager?

A password manager stores all your passwords in one place, most of the time in an encrypted vault. It protects all your passwords behind one master password, so you only need to remember one password instead of many while keeping your other credentials safe.

There are many great password managers on the market and using one will surely increase your online security. Most of them can auto-generate random secure passwords and then auto-fill them for you using a browser extension or smartphone app. In addition, most password managers can store personal data such as bank account information, payment cards, addresses, and notes.

We reviewed several password managers and picked the ones that will be true to their promises in securing online accounts. We identified the best password managers, free and premium, using the following criteria: features, security, and ease of use. Here are the top 3 password managers you can get for free:

Free password manager picks
1. LastPass
LastPass is one of the most popular password managers around. The password vault is encrypted using AES 256-bit encryption and hashed through PBKDF2 SHA-256, which is a way to securely store and transmit data so it can't be easily intercepted. It also adds a second layer of authentication (multi-factor authentication) to access your password vault.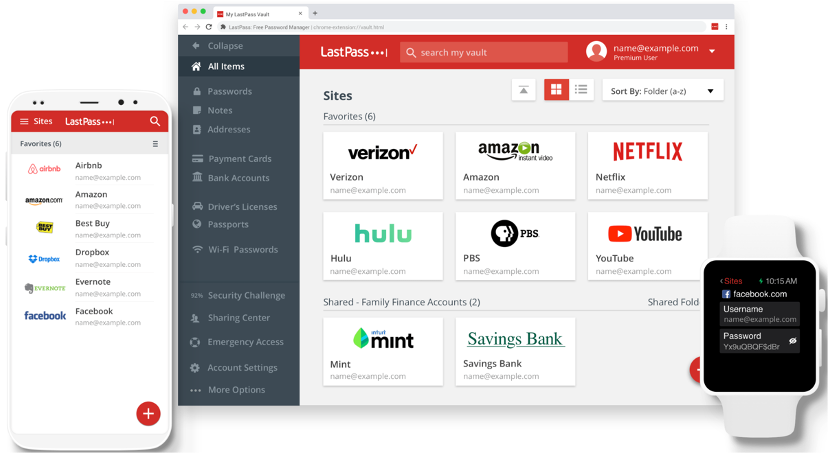 LastPass takes first place because its free version is loaded with a myriad of features that some premium password managers don't have. One striking feature that LastPass has is its seamless auto-fill feature which enables users to effortlessly retrieve and auto-fill their passwords or other details. It is a common issue for most password managers to have some glitches when replaying passwords on some sites, apps, or services, but it is never a problem with LastPass.

The free version of LastPass is equipped with several advanced options to manage your vault. LastPass is the only password manager to have extensive support for competitor password managers, allowing you to import and export your passwords with ease.  It also gives you an option to organize your vault using profiles. You can create sub-vaults to segregate passwords you use at home, and at work.

There are other features the free version of LastPass has which will improve your account security, too. A username and password generator may seem too basic and practical to be included in a password manager, but this is one of the most important features. Creating strong passwords becomes effortless so you don't need to reuse old passwords, making your accounts even more secure.

LastPass has a built-in popular URLs list when adding new passwords which you can select from, like Facebook, Google, Yahoo, and Amazon. LastPass also detects sites where you input your password for the first time. It has an automatic data entry prompt that advises you to save the password in your vault with just one click.

Lastly, LastPass has a user-friendly interface, and navigating through the menus and options is a breeze. It can be installed on every major operating system such as Windows, macOS, iOS, and Android. It also offers extensions for popular web browsers including Google Chrome, Opera, Firefox, Microsoft Edge, and Safari.

2. RoboForm
Similar to Last Pass, RoboForm employs the strongest encryption on its password vault to protect against dictionary, brute force, and other attacks – AES 256-bit encryption with PBKDF2 SHA-256. It also adds a second authentication step to your account in the form of a one-time password (OTP) sent via email or SMS, or by using TOTP-based two-factor authentication (2FA).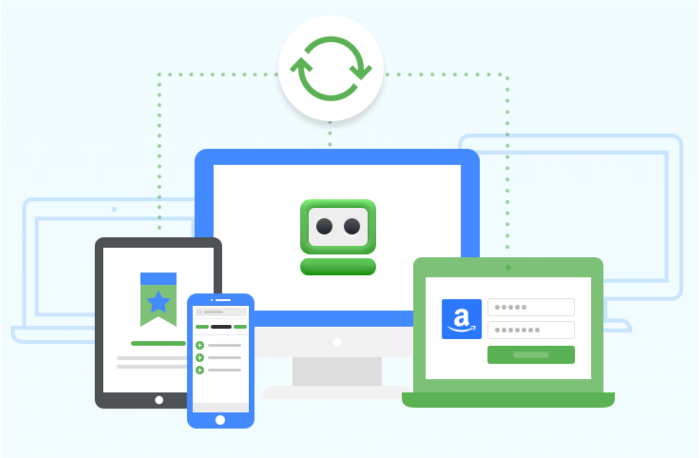 With RoboForm, signing into sites, apps and other services becomes very convenient with its one-click login functionality that is directly initiated from the password vault. Additionally, RoboForm comes with Security Center that helps monitor the strength of your passwords and informs you if any of them have been compromised.

Another noteworthy feature is Form Filling, which saves you a lot of time when completing web forms. The tool provides a variety of templates that include your personal data such as name, date of birth, phone number, and email address.

RoboForm supports every major operating system and also offers extensions for popular web browsers.

3. Dashlane
Dashlane can store logins for up to 50 accounts in a secure vault that also supports multi-factor authentication. Like the two password managers mentioned above, Dashlane can do much more than just autofill passwords, it can also store all kinds of information and fill out web forms.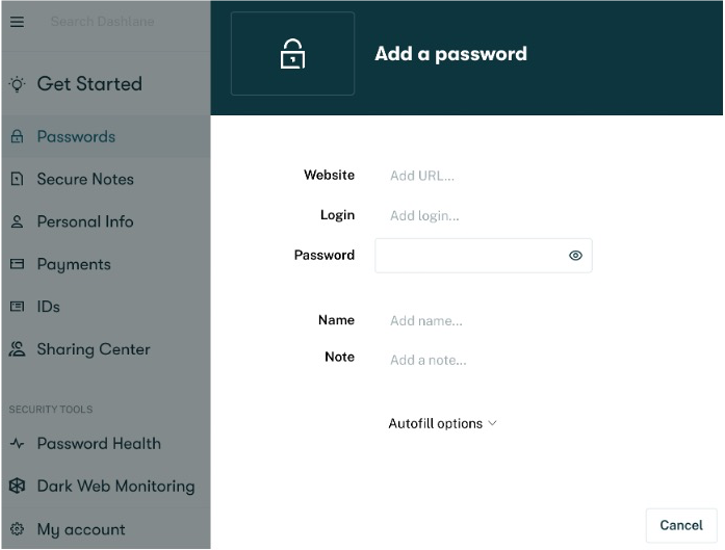 Furthermore, Dashlane has its own Security Center that helps monitor the strength of your passwords and flag those that are weak, reused, or compromised. One fancy feature that comes with Dashlane is the Password Changer. With a single click, it can change all your at-risk passwords. However, the free plan can only be used on a single computer.

Premium password manager picks

Honestly, I would advocate the use of a premium version of a password manager so you can use its features to the fullest and ensure your online security. The premium versions of the password managers featured above would be on our list of top picks. However, we also found other password managers that offer a lineup of features and provide the highest levels of security for your accounts. We are giving you some more options to consider when you decide to get a password manager.

1. Trend Micro Password Manager
The password manager developed by Trend Micro is a secure utility that simplifies password management for your online accounts. Its web-based console makes managing your passwords and personal information from any location easy. Trend Micro Password Manager manages your usernames and passwords in one secure location with AES 256-bit military-grade encryption.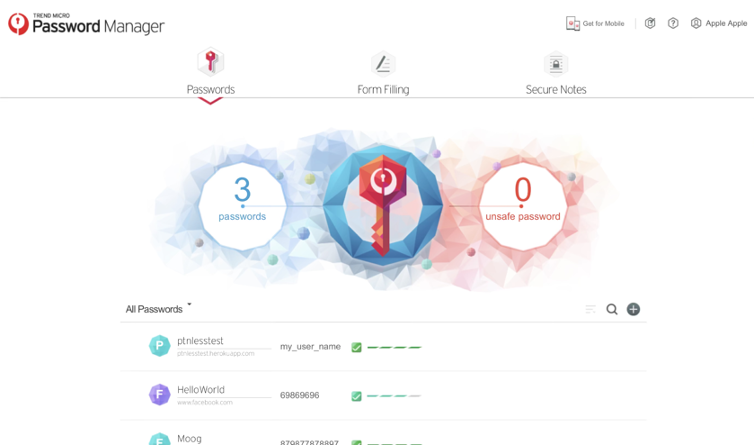 Trend Micro Password Manager works with your browser with its one-click login feature, which is a quick and easy way to access your accounts. No matter where you work, your password vault keeps everything in sync so you can stay organized. Moreover, it automatically fills in your personal information when shopping or signing up for services online with its one-click form fill.

In addition, some basic features to help you secure your passwords and online accounts are Password Doctor – notifies you when you have weak or duplicate passwords, Password Generator – creates strong passwords to prevent them from being breached.

Another notable feature of Trend Micro Password Manager is Smart Security, it locks your passwords automatically when you are away from your device.

Trend Micro Password Manager supports every major operating system such as Windows, macOS, iOS, and Android. It also has extensions for popular web browsers including Google Chrome, Opera, Firefox, Microsoft Edge, and Safari.
2. 1Password
There is no doubt that 1Password is one of the most effective tools online for generating, storing, and managing passwords.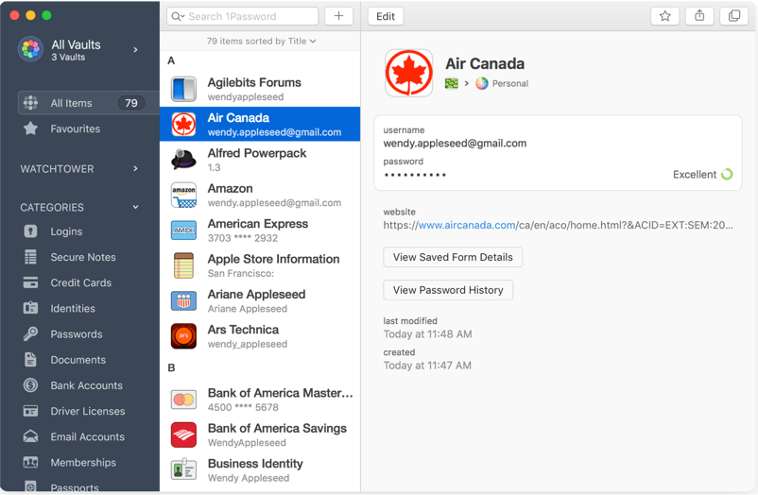 1Password keeps your password vault safe and makes your privacy a top priority. Your logins and private documents are securely stored and kept with military-grade AES 256-bit encryption, ensuring they stay locked away from thieves, hackers, and other attacks.

1Password syncs your data seamlessly between devices so you always have your passwords with you. Probably the most noteworthy feature to mention that 1Password has is the unlimited shared vaults and items storage.

1Password has a security feature called Watchtower that promotes better password hygiene and checks for breaches. It checks for weak, compromised, or duplicated passwords and lets you know which sites are missing two-factor authentication or using unsecured HTTP. It also has a travel mode, designed to hide sensitive data when crossing between countries' borders.

3. Keeper
Keeper incorporates an excellent feature set that helps protect unlimited passwords and private information in your vault. It utilizes AES-256 and PBKDF2 technology to encrypt the password vault. It also uses a zero-knowledge system and zero-trust architecture that guarantees the highest levels of security and privacy by storing data on the device level rather than the server level. Just like other password managers, it also fills in username, password, and personal information on web forms.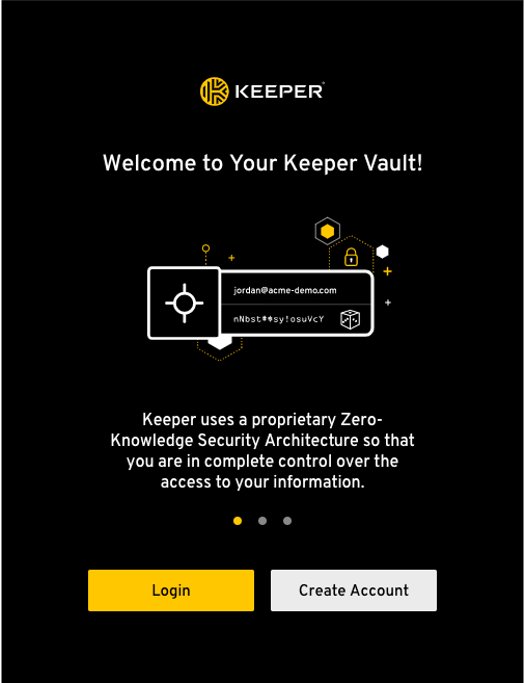 A unique feature Keeper has is its secure self-destructing messaging system that allows you to send private messages to friends, family members, and colleagues.

Keeper allows you to generate completely random passwords, too. By clicking the dice icon in the password creation tool, the app will produce an effectively unguessable password for you. It creates high-strength, random passwords to protect you from cyber-attacks. You can also create your own passwords and Keeper will measure their strength with its Security Audit feature. Additionally, it has BreachWatch which protects your online identity by checking leaked databases for your passwords and usernames.

Which password manager is best for you?

All the password managers featured in this article have their own strengths. When picking one, it is important to consider convenience, ease of use, confidentiality, integrity, and availability.

However, your online accounts will almost certainly be more secure if you use a password manager. It will protect your usernames and passwords from brute force attacks and other cybersecurity risks. Password managers will also encourage you to improve your behavior in organizing your passwords in a general sense. If you have the means, it is best to get the premium version of a password manager. This will give you the option of storing more passwords and access to greater feature sets that will reinforce security for your accounts and identity.