Parcel on the Way? Won an Award? Don't Fall For These Walmart Scams!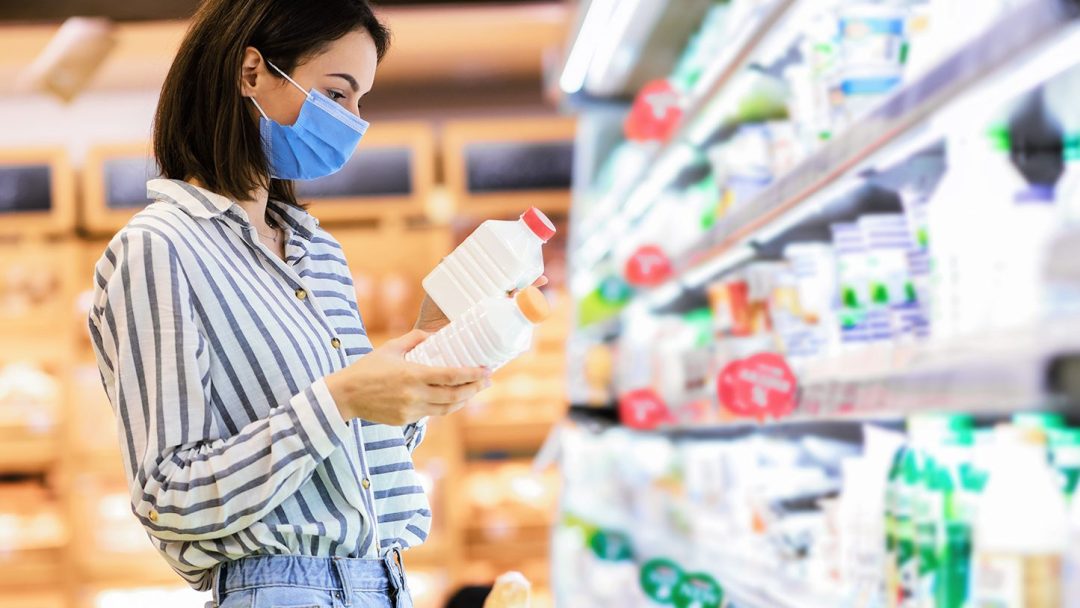 Have you ever received text messages or emails from Walmart that contain unknown links? Be cautious, and DO NOT click on anything. The links in the texts are phishing links! Keep reading to check how Walmart scams work and how to avoid them.

How the Walmart scams work

Scammers use various tactics and methods to lure you into clicking on the phishing links in their messages:
1. Parcel delivery

Scammers falsely claim that you have to check the delivery status of your parcel or you need to "rearrange" its delivery:
Walmart: Hi, Justin! Your parcel is on its way to you. Check your delivery address here. <URL>
Notice from Walmart: Your gift will be returned if not confirmed by today <URL>
Notification from Walmart: Grace, you have received (1) parcel. Please arrange for collection before its returned to sender. <URL>
2. Walmart giveaway scam / exclusive award

Scammers say that you have won an award in a Walmart giveaway campaign and prompt you to claim the gift via the phishing link: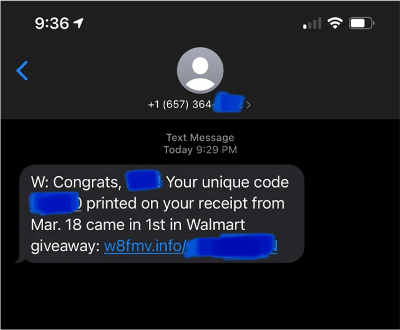 W: Congratss, Your unique code printed on your receipt from Mar.18 can in 1st in Walmart giveaway; <URL>
Congratulations Julie! You are this month's winner of our Special Walmart Giveaway. Check here <URL> Valid till 06/03/2021 -STOP to end
3. Special offer

Did you receive a message from "Walmrat" saying you qualify for a "special offer", but you need to complete an online survey to collect the reward? Be careful. It's a scam!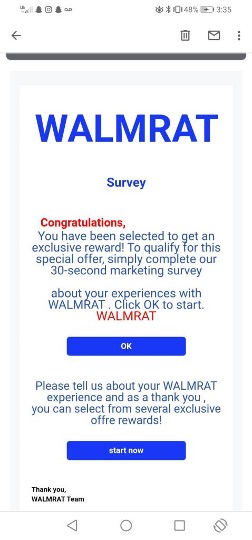 Content
[WALMRAT Survey
Congratulations,
You have been selected to get an exclusive reward! To qualify for this special offer, simply complete our 30-second marketing survey about your experiences with WALMRAT. Click OK to start.
WALMRAT:OK
Please tell us about your WALMRAT experience and as a thank you , you can select from several exclusive offre rewards! start now
Thank you, WALMRAT Team]

If you take a closer look, you will find there are typos and grammar mistakes in the email – WALMRAT instead of WALMART? Super phishy!

What happens if you click on a phishing link?

After clicking on a phishing link, you will be led to a website where scammers prompt you to enter personal information such as credit card numbers and CVC codes, your address, email, and passwords.

The scammers record everything you enter and use it to steal your money and hack into your online accounts. They may even use the information for identity theft! In some situations, your computer will become infected with malware, too.

In some cases, the phishing link will take you to a fake Walmart online survey page that says you can get an award like an iPad Pro after filling out the questionnaire: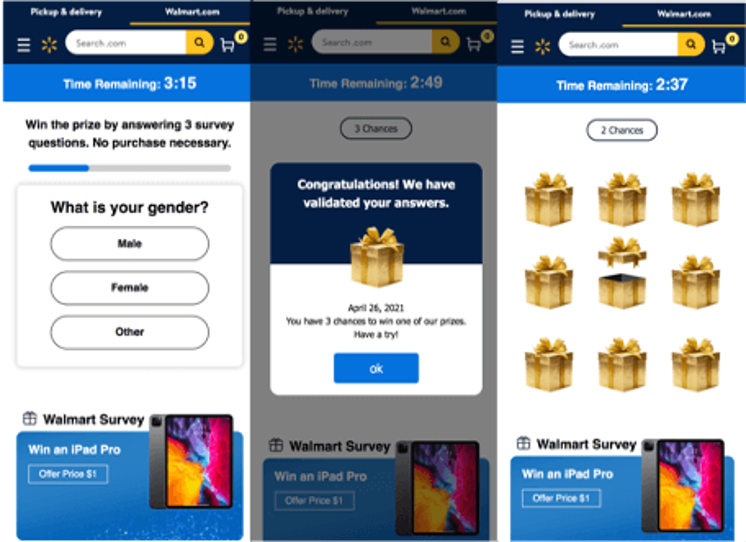 After that, scammers ask you to provide banking details or credit card information for the delivery of your gift. Guess what? You'll never get to see any gifts, and your sensitive data will end up in the scammers' hands!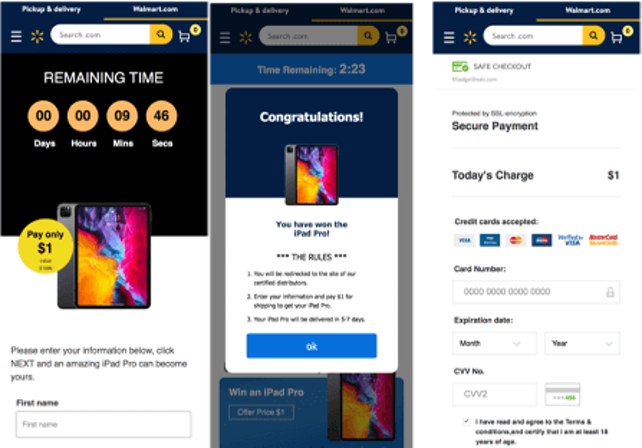 4 steps to protect yourself
Double-check the sender's mobile number/email address.
Reach out to Walmart's official website for help checking if there are issues with your account or delivery.
Ignore too-good-to-be-true online giveaway offers. $1 for an iPad Pro? Red flags have risen!
NEVER click links or attachments from unknown sources. Install Trend Micro Check for free for bulletproof on-the-go protection against scams. It detects and blocks dangerous websites automatically: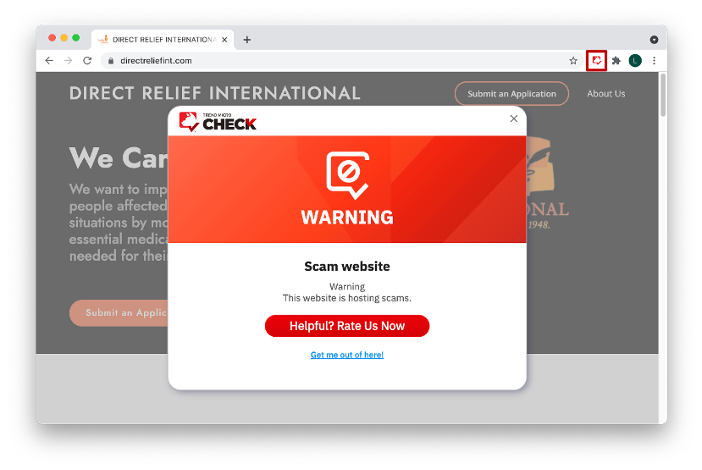 If you found this article helpful, please share and spread the word!