4 Common Olympics-related Scams – How Can You Avoid Them?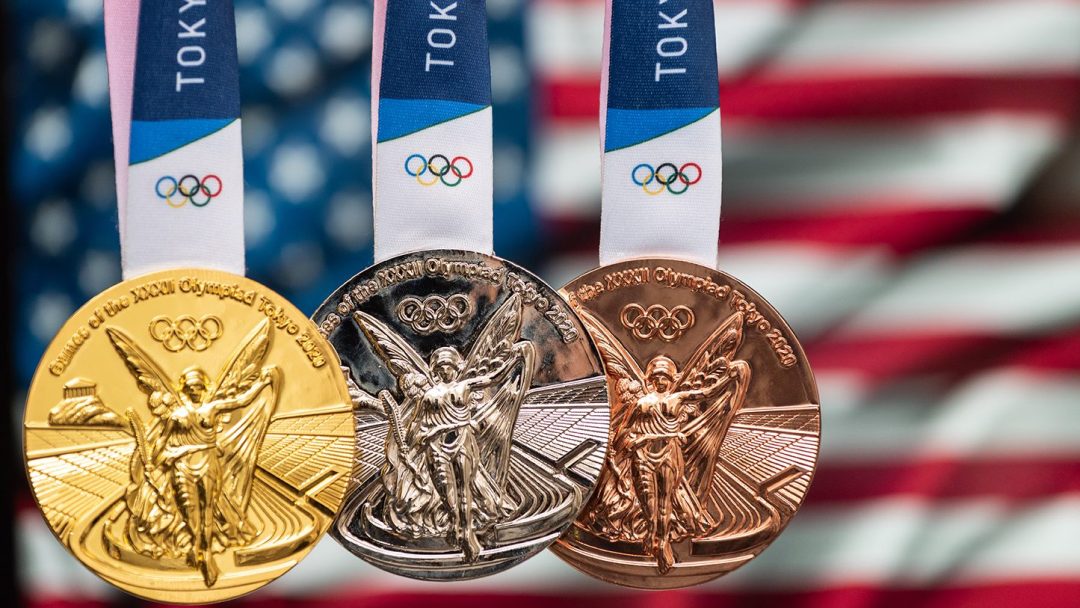 As the whole world is celebrating the Tokyo Olympics and cheering for all the athletes, scammers are doing their best to exploit you – they've been aiming for your wallets and identities with Olympics-related scams. In this article we share the 4 most common Olympic Games scams as well as some tips for how you can protect yourself.
1. Fake online streaming services
We have seen many fake online streaming services falsely claiming you can watch the Olympic Games for free via their less-than-legitimate websites. Here are some examples: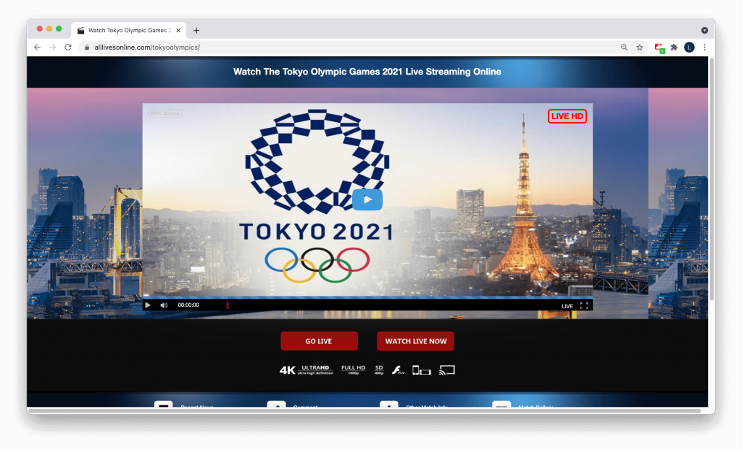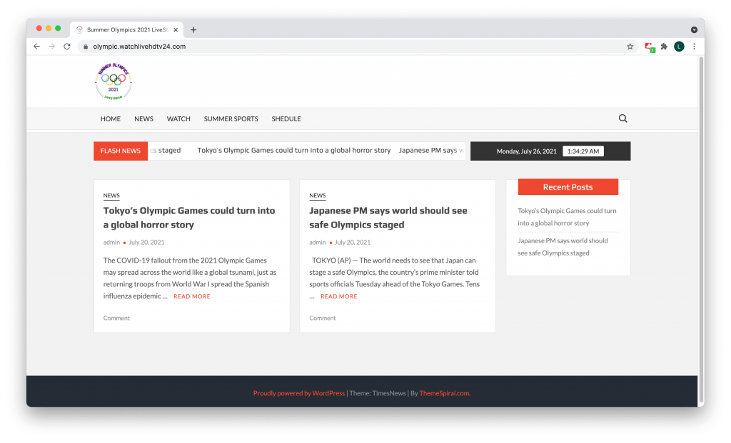 The tactics behind the fake streaming services are all similar. First, you have to register via a button or a link. After that, you're asked to enter personal information like your email address, credit card number, its expiration date, and even its CVC code.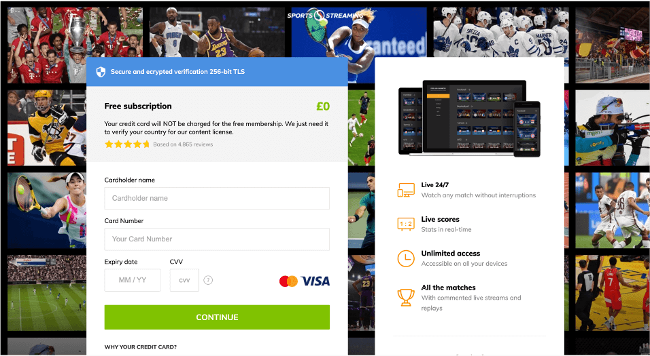 However, even after you've completed the registration, you still won't be able to tune into the Olympics. And what's worse, all the sensitive data you enter ends up directly in the scammers' hands. They will then use it to hack into your bank account and transfer out all your money, or they may even use it to commit identity theft. These fake streaming sites will often redirect you toward other scam websites too, including:
Fake video player websites
This bogus page shows a pop-up notification prompting you to press "Allow" to watch the Olympic Games. If you do so, the website will send you notifications containing malicious content, which will often in turn take you to other scam websites.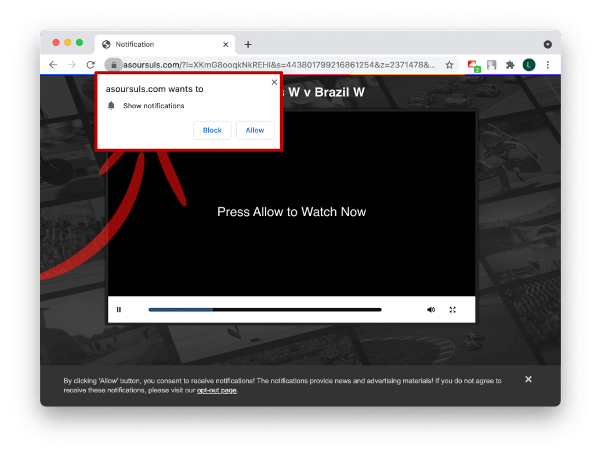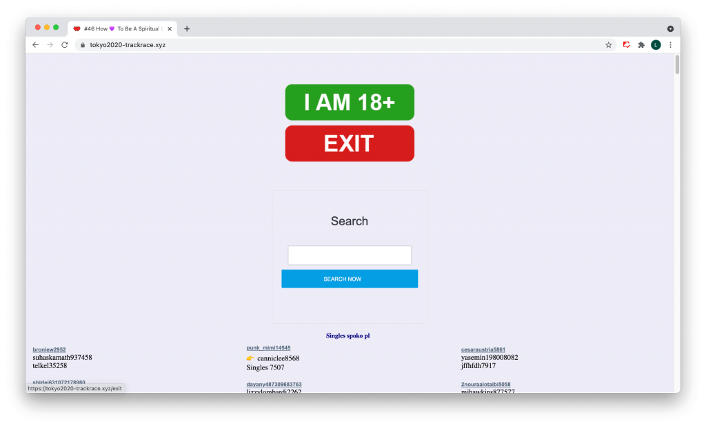 Like all the other online survey scams we've seen before, you need to complete a fake survey, providing lots of personal information to the scammers in the process.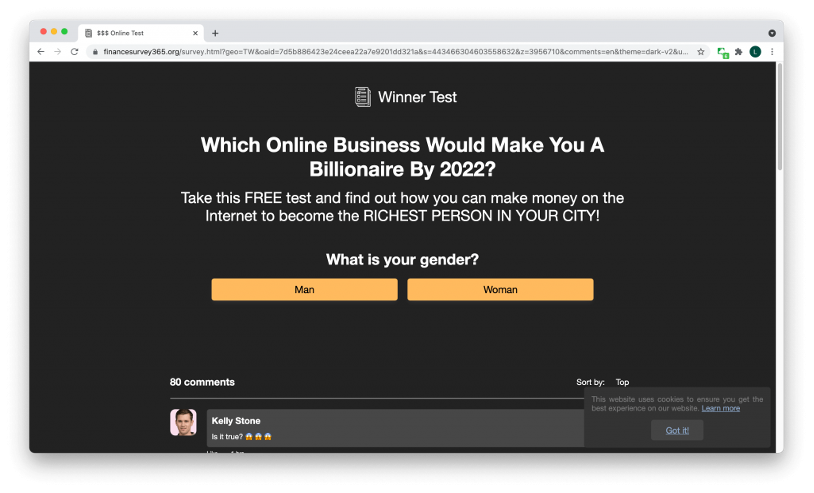 Safety Tips:
Only watch the Olympic games on trusted, legitimate platforms.
Be smart with your personal data. Don't share it on untrusted websites.
Never click links from unknown sources. Use Trend Micro Check to verify the legitimacy of web addresses first! (It's free!)
1. Trend Micro Check browser extension
Available on both Google Chrome and Microsoft Edge, the Trend Micro Check browser extension detects and blocks dangerous websites simultaneously (remember to pin it!):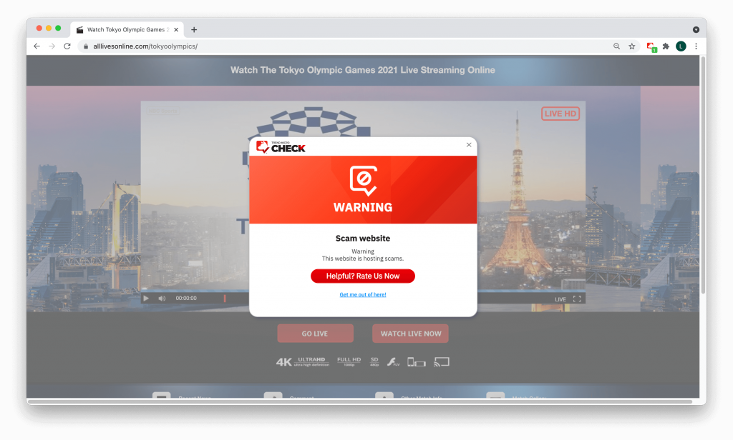 2. Trend Micro Check on WhatsApp
Send suspicious links to Trend Micro Check via WhatsApp before clicking on them. It detects the safety of links within seconds: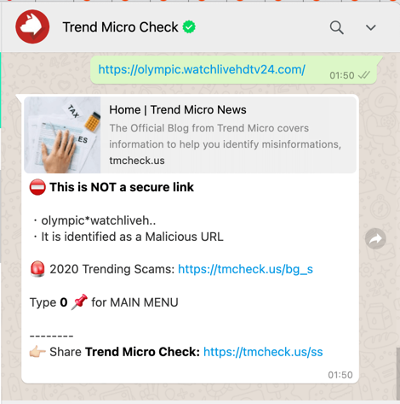 2. Olympics giveaway scams
Many famous companies have been running giveaways and lucky draw campaigns to celebrate the Olympic Games. However, scammers recognized this and have been tricking people with their own fake Olympics giveaway scams.
For example, this fake Facebook post claims to be giving away a Samsung 65" 4K TV. The post prompts you to click on the phishing link embedded to register for the campaign: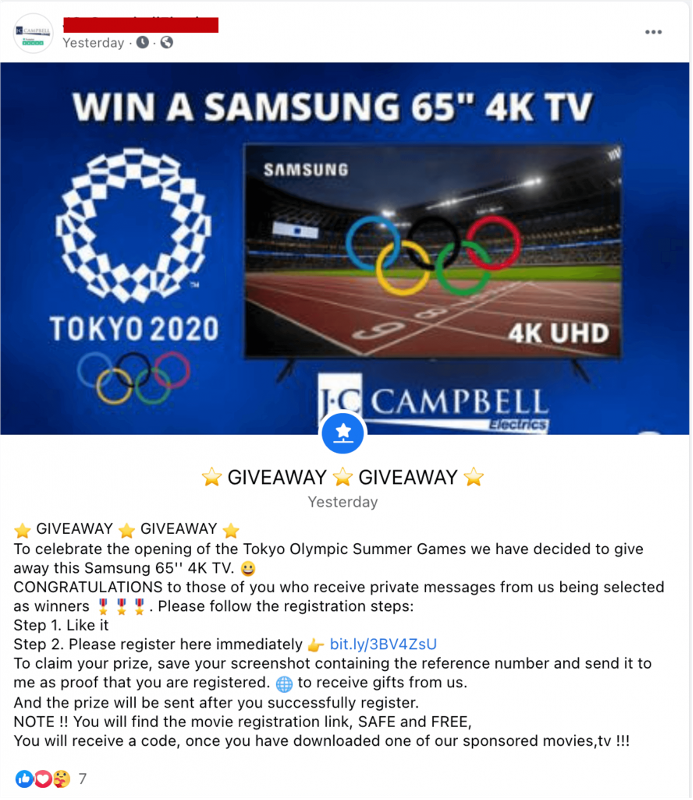 The link leads to a fake registration website. If you click the "Register Now" button, you're taken to a page that asks you to download an unknown Chrome extension. Please don't download anything from such sites! Your computer will almost certainly become infected with malware!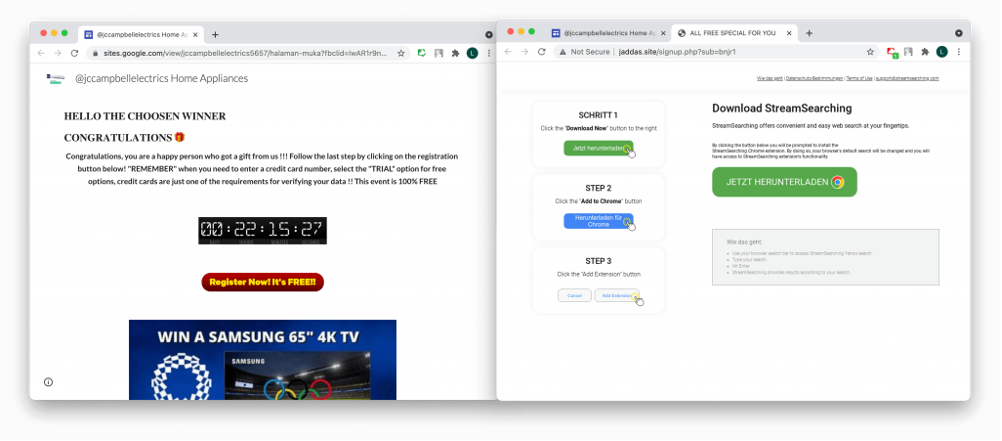 Safety Tips:
Be careful when you are required to click on links to join a campaign.
Verify links before you click on them. Use Trend Micro Check!
3. Olympics ticket scams
Did you buy tickets to the Olympic Games but had to refund them due to the pandemic? For the many who purchased them through non-official websites, it is pretty much certain that they'll never see that money again. For example, lots of customers have been complaining about not receiving a refund from the website olympictickets2020.com: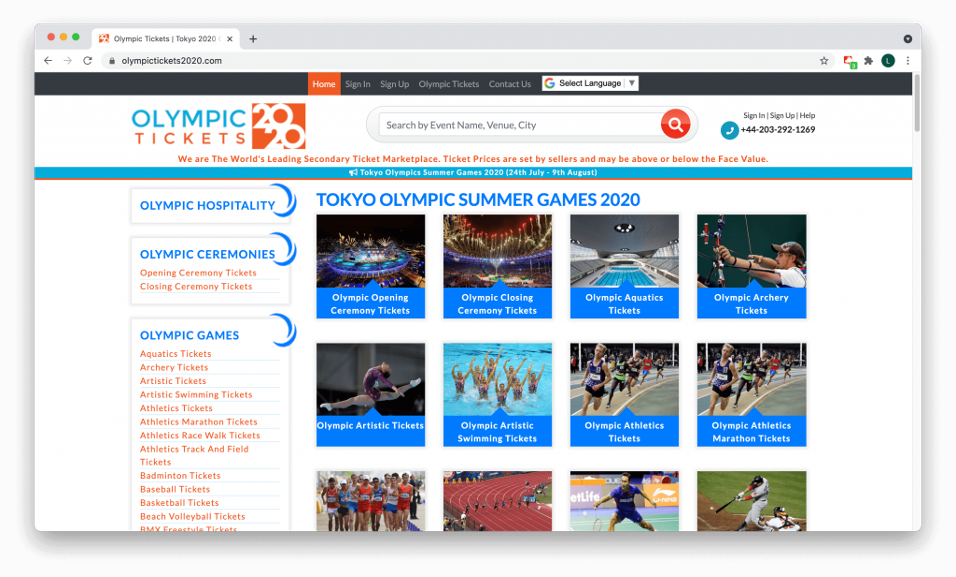 Safety Tips:
Use only reliable ticket selling platforms.
Do your homework and read reviews and complaints about ticket sellers through Scamadviser or simply send the link to Trend Micro Check!
4. Fake Olympic Games cryptocurrency token scams
It is good to support athletes, but not through fake "Olympic Games Official Token" websites. Recently, bogus cryptocurrency token websites have been popping up, inviting you to buy cryptocurrency for athletes. Here is an example: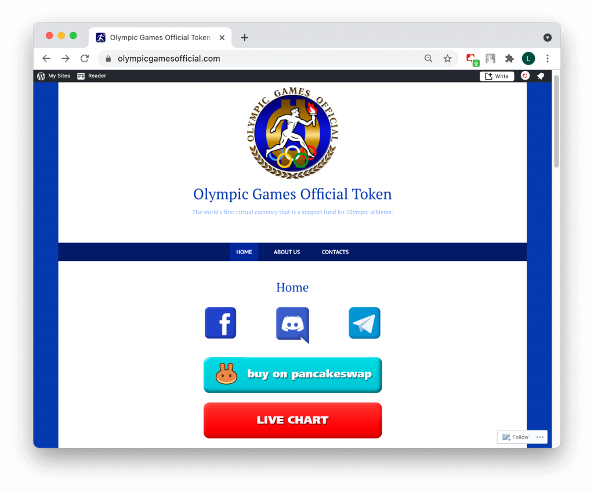 However, the website does not offer any information about how the donations and tokens work, and the contact information on the website is highly suspicious, too (only a @gmail.com email address listed).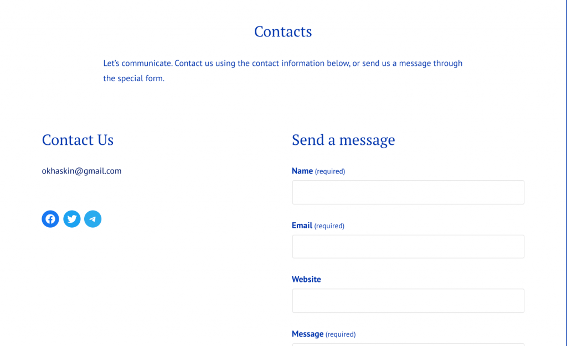 Safety Tips:
Never invest money unless you fully understand the investment.
Check the safety of the web address using Trend Micro Check!