Top 5 Free Safe Download Sites You Should Know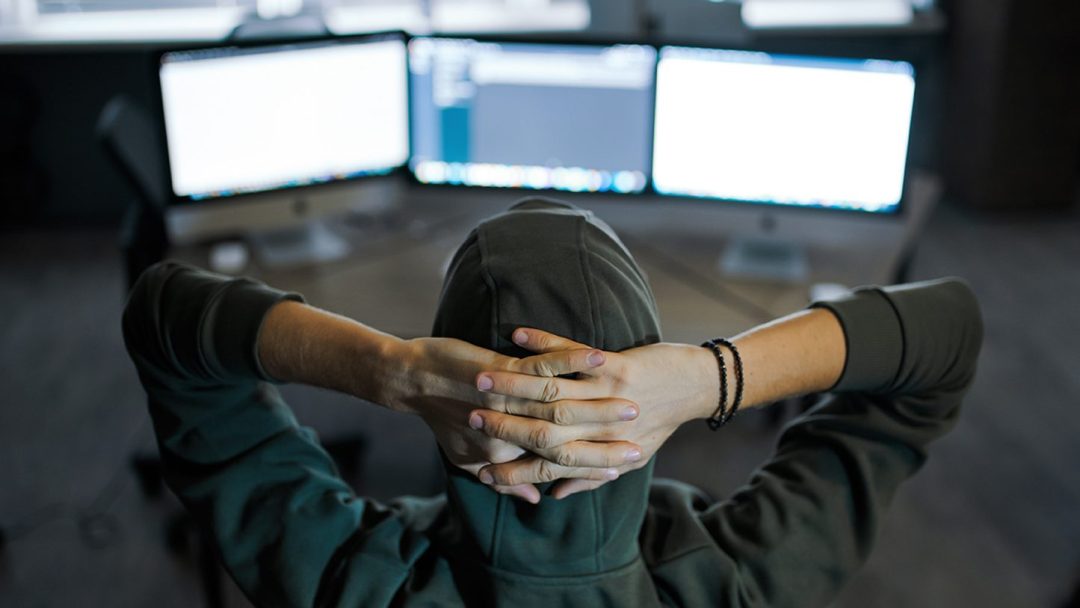 There are lots of sites on the internet that you can download free software from, but many of them are unsafe. A lot of them will bombard you with pop-up ads, trick you into downloading software you don't want or need, or even infect your computer with malicious software. The best antivirus programs will all but guarantee you remain protected, but why take the risk in the first place?
To help you out and save you any potential headaches, we've assembled a list of five of our top free safe download sites, that are completely safe to use. Let's get into it!
1. Download.com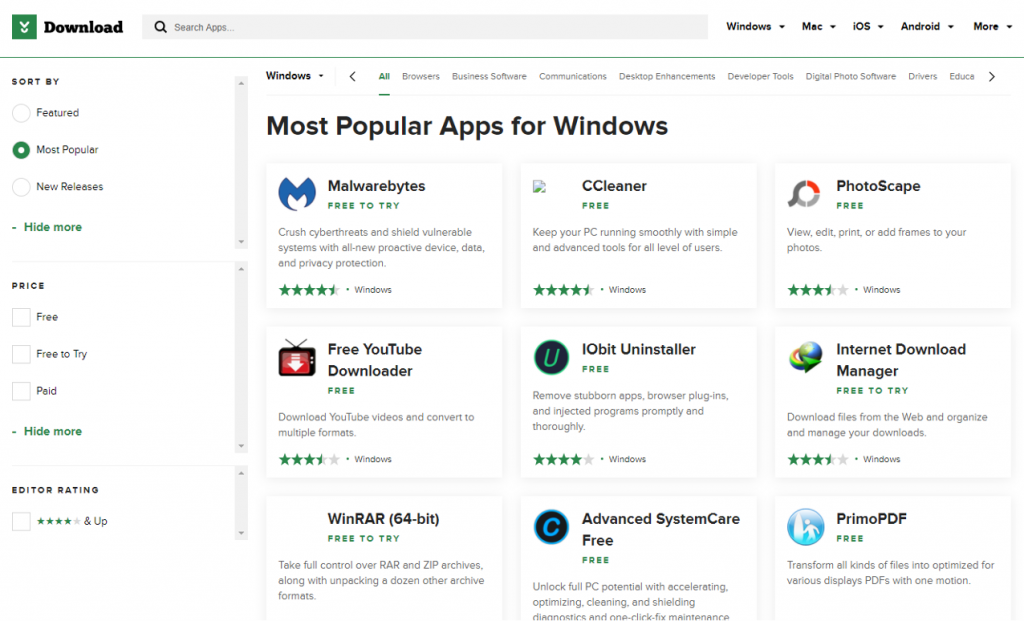 Launched way back in 1996, Download.com (which now redirects to download.cnet.com), is the oldest site on this list. As part of the CNET brand, the site's trustworthiness has never been in question.

The site contains software for Windows, Mac, iOS, and Android. The layout is really well thought out, too. Software is arranged into different categories such as Most Popular, Education, Games, Design, and Productivity, making it easy to browse through what's available.
Each app is also sorted into one of three additional categories — either Free, Free to Try, or Paid. This is super convenient and could potentially save you the time of uninstalling apps you thought were completely free only to find out later they're not.
2. Software.informer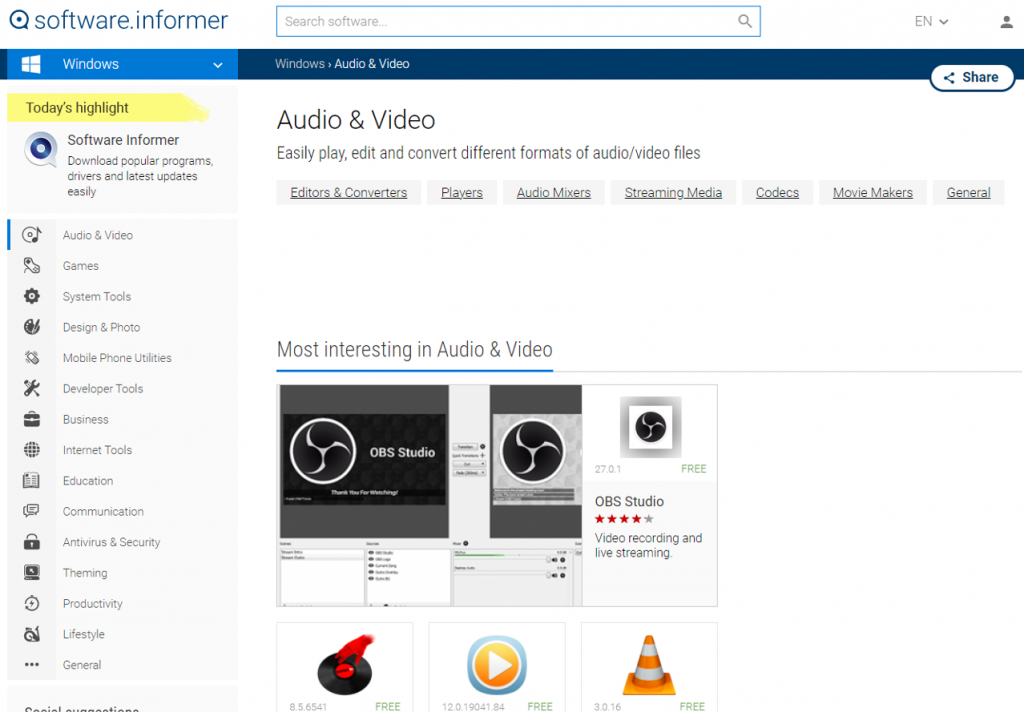 Software.informer is a software download site with a huge focus on Windows. You can use the site to download software for pretty much anything you can think of. Games, audio & video editors, education apps, antivirus software — you name it, they've got it.
The site has got a very active members' forum where all kinds of software-related conversations take place, too. And with over 700,000 unique visitors to the main site a day, there are sure to be quite a lot of conversations happening!
One cool feature about the site is its forMac section — a place where you can find Mac alternatives to popular apps that haven't yet been developed for the platform. Things like Windows Movie Maker for Mac and Instagram for Mac can all be found here.
3. Softpedia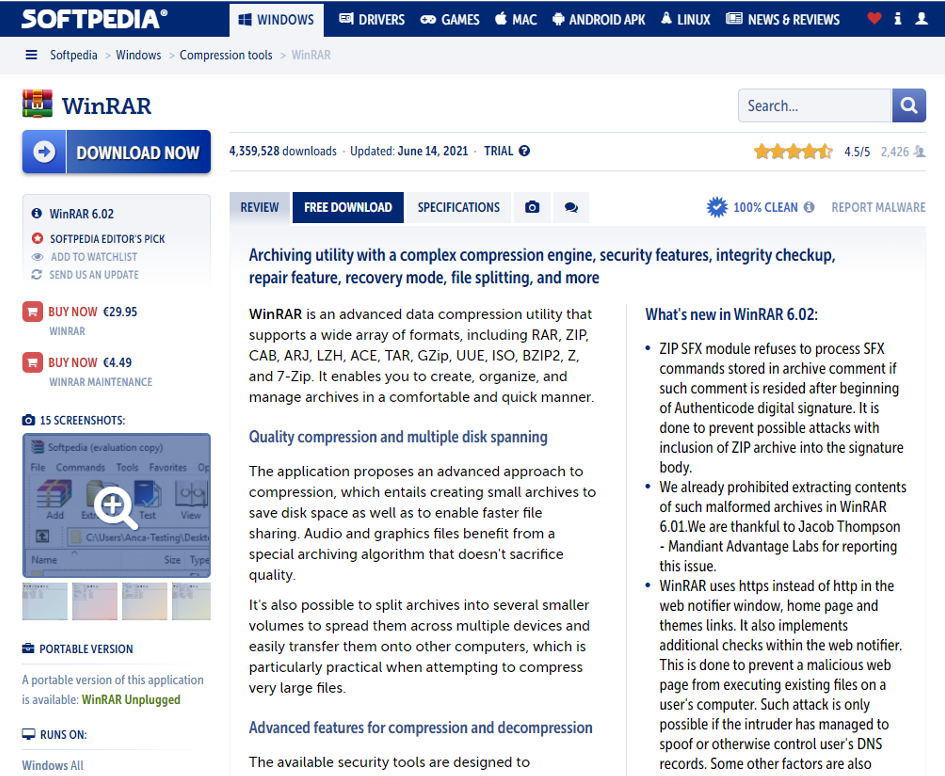 Softpedia has software for Windows, Mac, iOS, Android, and Linux. The layout isn't as clear and clutter-free as some others, but all the necessary information can still be found. For every app, you can see which versions of your operating system it runs on, what changes were made in the latest release, and most of the time there is also a link to the developer's website.
Softpedia independently tests and certifies that apps available on its website are free from any form of malware, which gives great peace of mind.
Oh, there are over 1.3 million items available for download on the site, too!
4. Softonic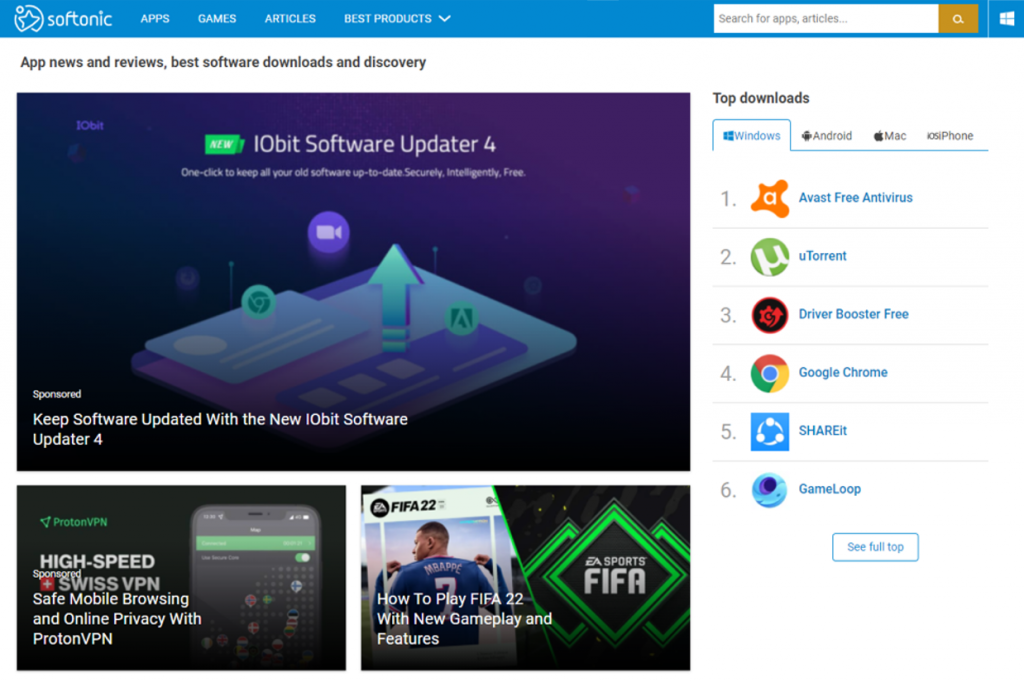 Softonic is another great free site to use for all your software downloading needs. The site has software for Windows, Mac, iOS, Android, and more. The browsing experience is pleasurable, and they even have lots of cool software and technology-related articles to check out.

It claims to be "the largest trusted-apps and software platform in the world." After all, over 100 million monthly visitors, can't be wrong, can they?

A lot of people have concerned that is Softonic safe? In fact, we have a whole article dedicated to the subject here. Rest assured, however, we can confirm that softonic is 100% safe!
5. FreewareFiles.com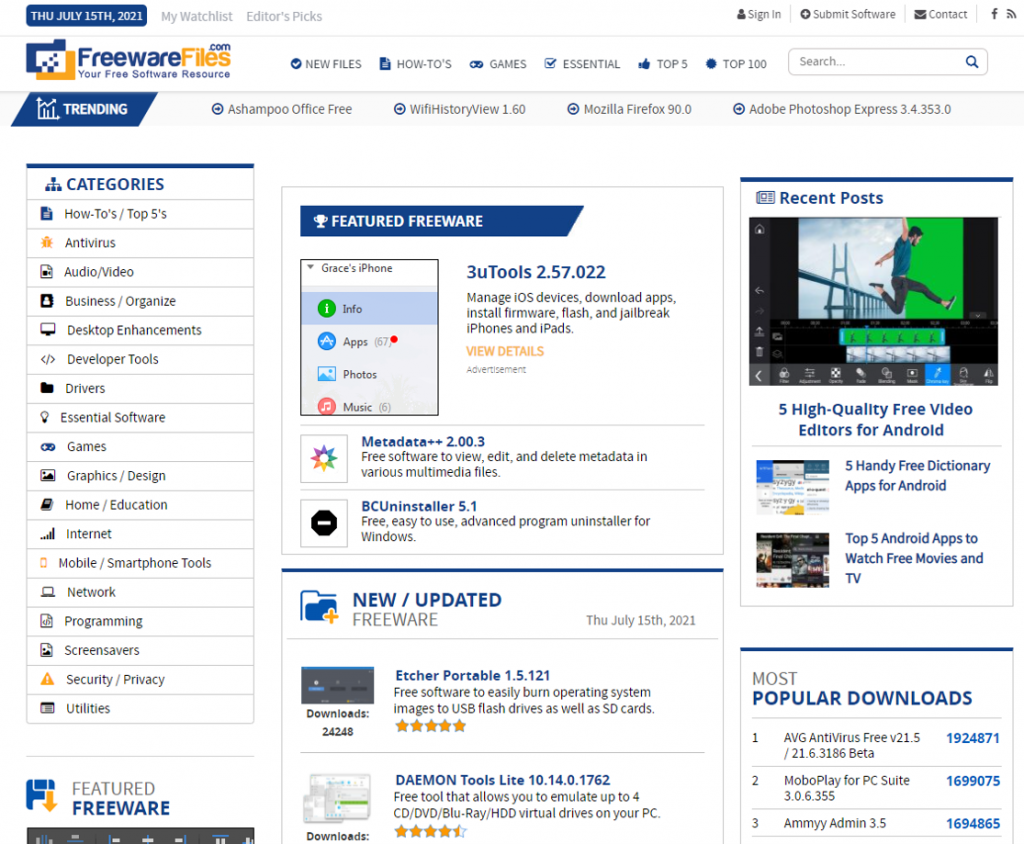 FreewareFiles.com is another mega-popular site for Windows software, but they do have a few apps for Android, too. As the name implies, everything on the site is completely free to use, and there are over 18,000 programs to choose from.

The site's Best Free Essential Software section is particularly great. It's designed to be a one-stop shop for anyone configuring a new PC or restoring a recently repaired one. You can find all sorts of great free software — antivirus, business software, video players, everything you'd need to get up and running.

Is GetIntoPC safe?

GetIntoPC is a site that offers cracked (pirated) versions of paid software for free. As a result, lots of people looking to save some cash wonder whether or not the site is safe. A quick Google search will return results with lots of people testifying to its legitimacy, but the truth is, sites that offer pirated software are very likely to contain malware. It's a far better decision to stay on the right side of the law and stick with any of the legitimate and trusted sites mentioned in this post.

Tough to make a mistake
Whichever sites you choose to make your go-to for free and safe software downloads, if it's one of the five mentioned in this post (not including GetIntoPC), you've chosen well! They're all sites with great reputations and large catalogs of available software so you really can't go wrong!